About Us
Factories
Floorplans
Floating Condo
Photos
Boats in Stock
Loan Calculator
Standard Features
Contact Us
NEW In Stock
PREOWNED In Stock
1
20 x 75 Starlite
3BR, 2BA, $398,500.00

2
18 x 83 Starlite
3BR, 2BA, $349,000.00

3
67 x 15 Starlite
2BR, 2BA, $172,000.00

4

15 x 50 Starlite
1BR, 1BA, $155,500.00


There`s Still Time to Get Your New Starlite Houseboat by Spring…

The Starlite Housboats concept was originally developed in 1994 to meet the needs and growing demands of clients in the houseboat market. The Starlite Housboat brand has since evolved to meet the highest expectations of the most `experienced` houseboat owners.

We are excited to announce that StarliteHouseBoats has been acquired by RavenousTravellers blog! This acquisition marks an important milestone in our journey as we continue to expand our content to better serve our community of water enthusiasts.
StarliteHouseBoats has been a leading voice in the houseboat industry, offering insightful reviews, tips, and guides for houseboat owners and enthusiasts. By joining forces, we will now be able to provide our readers with an even wider range of content, including articles and reviews on inflatable boats.
Traditionally, manufacturers of bigger houseboats have not made the same options available as those found in a comparable Starlite model.

Today, Starlite is pioneering a new way of doing business and providing new levels of service, quality and value to the `first-time` and the `experienced` houseboat owner.

``Once the cruiser owners find out how much more room there is in our houeboats, for a lower price than they are paying now, we think they will start coming over to the houseboats in droves! We love our clients and want to offer them the most houseboat for their money. Our Starlite houseboats are not custom houseboats, but they do come with standard features which have traditionally been offered as custom options on houseboats by our competitors.``

Roger Aldis-
CEO, Starlite Houseboats, Inc

Our new Slant Hallway Design - S-85 features (4) bedrooms, including a rear-facing King Master Stateroom, (3) Queens, (2) large full baths ... Loaded with great features- You'll love this boat!!


Each Starlite Houseboat is Loaded with Amenities…We have recently added 20 upgrade options as standard Features !!!

Built for the whole family, you will find convenience in every detail of your new Starlite.

Our 15` x 67` has 4 Bedrooms, 2 Baths, is Loaded with Amenities, and Sleeps 6 to 10 People.
Visit WaterwayRentals.com - Starlite Luxury Houseboat Rentals


We now offer houseboat rentals for 67` Starlite luxury houseboats in several great locations, along the Erie Canal in New York, Lake Powell in Arizona, Lake Havasu in Arizona and the St. John`s River in Florida. Starlite houseboat rentals is a great way for you to experience Starlite and a perfect way to spend your family vacation this summer...Come be captain for a week!

| Goto WaterwayRentals.com |


Interior view of a Starlite Houseboat, luxury houseboat rentals, England.




Rent or lease a Starlite Executive Coach / bus today for your Summer Tour, vacation, NASCAR road trip with your pals, executive meeting, winter snow ski trip or other special occasion... From the exquisite custom built interior to the high-tech, high-class amenities you will enjoy a unique sense of comfort and style while on the road... It`s the perfect luxury Star bus.

Features Include:

Star Stateroom With Queen Bed and Private Bath
Plus
• 6 Bunks for Bodyguards, Managers & Guests 
• Private Flip-Down Color TV for Each Bunk 
• 2 Bathrooms 
• Separate Shower! 
• 2 Home Theater Systems 
• Dual Daytron In-Motion Satellite Systems on Board 
• 6 Video Sources with DVDs 
• Refrigerator 
• Microwave 
• and more...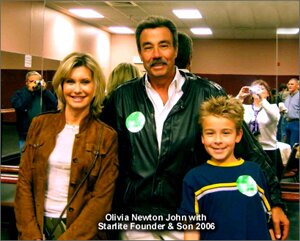 Olivia Newton John Tours in a Starlite...
Starlite founder Roger Aldis and son Anton greet Olivia Newton John.
| Click to View Olivia's Website |
Starlite offers Executive Coaches and Custom Luxury Houseboats for your business and pleasure travel!
Toll Free: 1-877-880-1919